Amazing Hotels: Life Beyond the Lobby
BBC Productions for BBC Two
Editor: Adam Mitchell & Matt Scragg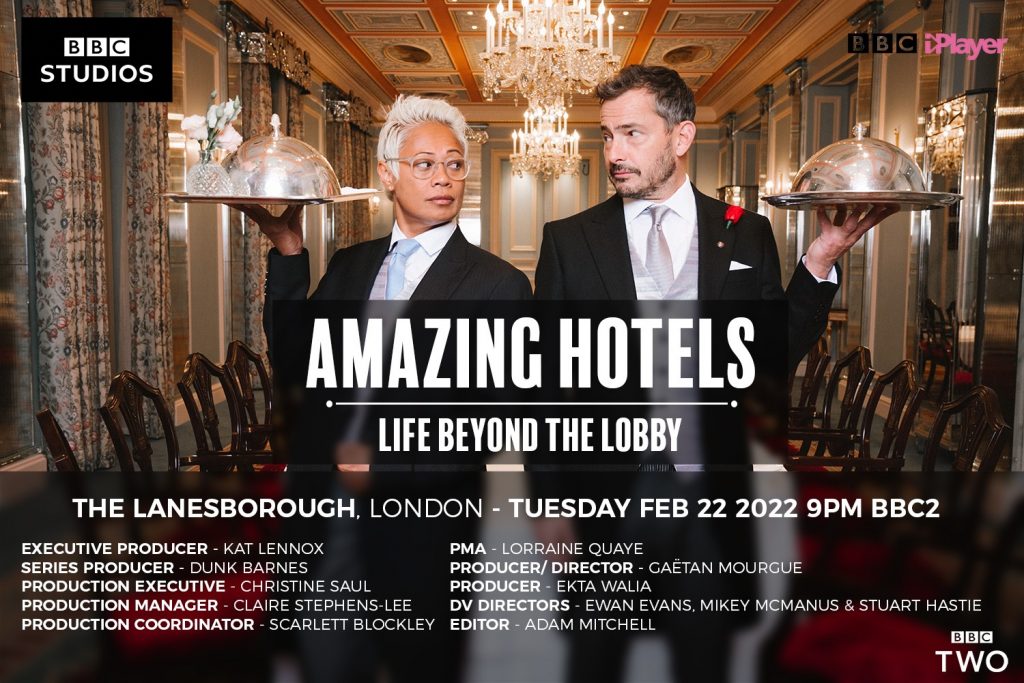 Time to choose your next holiday destination! Browse the catalogue of the most incredibly hotels in the world with this new series of Amazing Hotels: Life Beyond the Lobby in which columnist Giles Coren and international chef Monica Galetti roll up their sleeves to work alongside staff in some of the most extraordinary hotels across the globe.
Adam Mitchell and Matt Scragg worked on the new instalment of the series. In episode 2, edited by Matt Scragg, Monica and Giles' travels take them to Madeira, famous for its year-round spring-like weather, to work in one of Europe's greatest hotels, Reid's Palace. This hotel first welcomed the world's glamorous elite 130 years ago and is working to keep its silver service traditions alive the modern world. Giles irons bedspreads in a suite once loved by Winston Churchill, and Monica cleans crabs out of the historic tidal swimming pool.
Matt enjoyed working on the show and tipped his hat to the production team for pulling together a show with travel at its heart at a time when travel is unpredictable to say the least!
Adam worked on the London episode which will be airing in early 2022 and will reveal behind the scenes of ones of the British capital's most select hotels. Adam commented that 'it's a lot of fun working on Amazing Hotels and seeing inside these stunning buildings which I can only dream of seeing until the lottery win!!!'
Watch episode 2 on BBC Two at 8pm, tonight!