Freeze the Fear With Wim Hof
Hungry Bear Media for BBC One
Editor: Tim Fielding
9pm on Tuesdays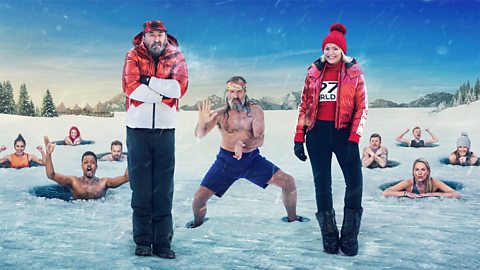 To Freeze or not to Freeze, that is the question.
Extreme Athlete and well-being coach Wim Hof has made a name for himself by accomplishing incredible feats of endurance that earned him the nickname 'The Iceman'.
In this brand new series produced by Hungry Bear Media and presented by Wim Hof superfan Holly Willoughby and comedian Lee Mack, eight soul-searching celebrities have chose to take on jaw-dropping challenges in sub-zero temperatures under his guidance.
They will test their bodies and minds under intense conditions to reap the rewards of cold-water therapy and demonstrating the vast potential of the human mind. This series is like nothing seen before and promises genuine reality, high drama, jeopardy, and plenty of laughs along the way.
Tim Fielding was part of the team of editors who brought this series to life, cutting heart-warming but bone chilling stories throughout the show. He said "Freeeze The Fear was a show I'd been looking forward to for a long time. As someone obsessed by the outdoors, I was looking forward to getting my hands on the footage from the Italian mountains and it did not disappoint. The director Josh Jacob's did a superb job and we had lots of toys to play with like FPV drone, loads of timelapse & a Phantom 1000fps camera, which made the challenges in iced water look superb."
Watch it every Tuesday at 9pm on BBC One or catch up on iPlayer
Watch the trailer here