Last Woman on Earth with Sara Pascoe
Editor: Connor Snedecor
Talkback for BBC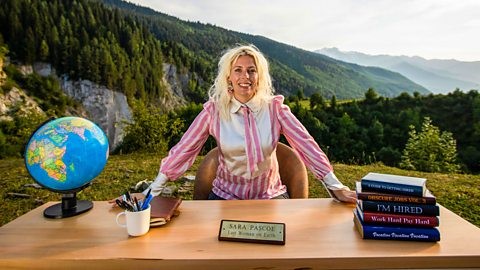 Writer and comedian Sara Pascoe is learning how to do the world's most endangered jobs, from ice-carving in Finland to climbing trees to making sweets in Cuba.
In last night's episode Sara travelled to Satu's beloved Finland where she looks at the impact the changing climate is having on the future of the country's traditional jobs. In the south, Sara explored the timber trade by meeting a forest cleaner and a baker. In the north, where temperatures are increasing the most, Sara looks at Lapland's tourism industry by learning some unique jobs including ice carving and being an elf in Santa's village. We're thinking about branching out with Satusfaction, perhaps representing elves as well as editors!
Connor edited the Finland and Cuba episodes and he said that "Working on this series was great fun, not least because the Finland edit was happening just as the world shut down to travel. It's nice to work on something that takes you around the world when you're stuck at home! The SP, Mus, and I work well together so it didn't seem different to be doing it remotely".
In case you missed it, The Finland episode will be repeated Tuesday 19th Jan, 11.30pm or all three episodes of the series are available on Iplayer.