Paddington 24/7
Mondays at 9pm Channel 5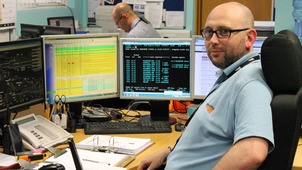 This new series goes behind the scenes at one of London's busiest transport hubs, meeting the army of workers who keep Paddington station running. In the first episode we see staff cope with 20,000 football fans travelling to Cardiff for the Champions League Final, but customer service assistant Frank's plans to deal with the return journeys are shaken by a major terrorist incident at London Bridge.
Tanya, Mohsin and Maria all worked on the series. Tanya edited Episode 2 which airs on Mon 18th September sees London brought to its knees after a pigeon struck an overhead wire!
Mohsin said "Working on episode 6 has been challenging but fruitful, with some great characters and stories. We follow a day of disruptions which is told through a number of control rooms and how one thing happening far from Paddington has a bigger impact on the whole network. It has been a pleasure working with the Series Producer, Tim Pritchard. First Channel 5 viewing next week so I hope it all goes to plan!"
Maria stated that "Footage is quite interesting, as there's always stuff going one, either a big football match, a massive disruption day or even a terrorist threat, so doing it was amazing because you are always looking at interesting stuff happening in this station. The team is really good, hard working uber creative team"
See here for more details on the series.
Channel 5 9:00pm Mon 11 Sep
Channel 5 (+1) 10:00pm Mon 1
My5 2:30am Mon 11 Sep