Russell Howard Stands Up To the World
Premieres on 31st May 2021 at 9pm
Avalon UK for Sky One
Editors: Connor Snedecor & Dan Knight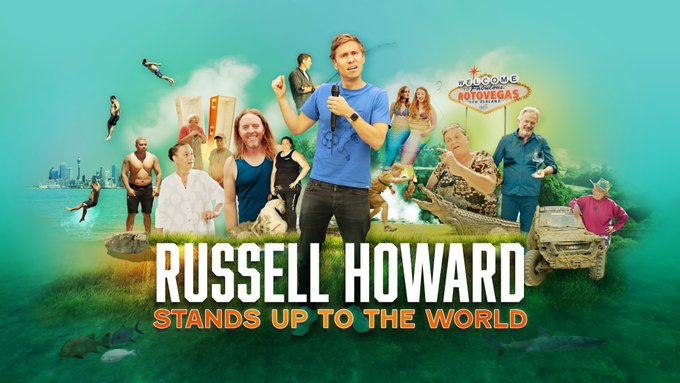 Need to change horizons? Fancy a trip to the other side of the world? Or just a night out at the comedy club to have a good laugh? Russell Howard Stands Up To the World is the show for you!
This three-part travelogue produced by Avalon UK follows comedian Russell Howard as he prepares his new international tour in Australia and New Zealand, becoming the first comedian to do so post Covid. At a time when we've never felt further apart as a world, he plans to discover what our cousins across the seas are really like, celebrating our differences and unexpected shared passions.
Following two weeks in quarantine to gain access, Howard tries divebombing, sheep shearing, underwater driving and Maori hot pool cooking in New Zealand where he meets Kiwi actor Sam Neill, Prime Minister Jacinda Ardern's partner Clarke Gayford and comedian Urzila Carlson.
Then, on the Australian leg of his journey he spends time with Tim Minchin and meets real life mermaids and gets up close to koalas in the care of Robert Irwin, son of the Aussie zoo legend Steve Irwin.
Dan Knight worked on the first episode of the series and reflected that 'it was challenging and fun to make a travelogue in lockdown- which is a central theme of the show. It was also exciting as an editor using stand up (rather than VO) as the main narration to the adventures. Creating a refreshing take on the genre with echoes of the classic Billy Connolly travelogues from the 90s.'
Connor Snedecor, who edited episode 2 said "It was a nice virtual holiday to cut Russell's experiences in New Zealand, the only place you could pretend the world was back to normal at the time! The production team pulled off a real feat as we didn't just edit the show remotely, it was basically shot remotely too, with local crews."
Airing Monday 31st May  on Sky 1 at 9pm. Don't miss take off!