The Cane Field Killings
Editor Melanie Golden
Produced by Quizzical Pictures (SA) and Serena Cullen Productions (UK) – originally for MNET (SA) Freemantle (UK)
Directed by Zee Nthuli and Catharine Cooke.
Channel 4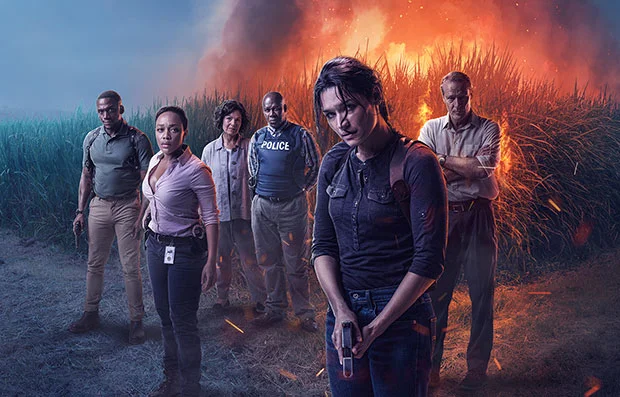 Channel 4 has acquired South African detective drama The Cane Field Killings, otherwise known as Reyka starring Kim Engelbrecht (Bullet Proof, The Flash, Eye in the Sky) and Iain Glen (Game of Thrones, Downton Abbey). The eight-episode series, which launched last year to rave reviews in South Africa, will launch on Channel 4 on 10th April 2022 at 10pm. All episodes will then be available on All 4.
The Cane Field Killings tells the story of a brilliant criminal profiler, Reyka Gama, who is struggling to comes to terms with her dark past. Having been abducted as a child by farmer Angus Speelman (Iain Glen), Reyka now channels that traumatic experience to enter into the mindset of Africa's most notorious criminals. The series follows her investigation into a string of brutal murders committed by a serial killer in the sugar cane fields of Kwa-Zulu-Natal.
Melanie Golden edited Catharine Cookes Episodes – episodes 3, 4, 6 and 8. "Catharine and I have been an edit/director team for over 10 years now – wow!! From the first time we worked together, we clicked. She has become one of my extremely close friends on top of a director I adore editing with. As we have complete trust in each other, it allows the edit to be a place to push our story and characters to new levels. Creatively we are always on the same "vibe" and have long chats about moments, characters, music – we keep discovering as we edit"
The post production on The Cane Field Killings was a collaboration across the globe! Catharine based in Johannesburg SA, Melanie based in Weymouth UK, Zee and Matt in Cape Town SA and the producers, a mix of in SA and UK. Melanie has some interesting insights to the edit process "As Cath and I have such an established relationship, the edit was run the same as it would be if we were together. I will get a full episode cut, with sound and scratch music in place ( best way to sell any crazy ideas I may have) and then she will watch. We will go through it, make notes ( for this over Zoom) and I do the next round and so on. We all had a very clear vision for the show before filming started from characters, filming style, edit style, music – it was a solid team".
Melanie enjoyed working on the project and explained "I loved the characters – all a bit messed up- which is real, makes for deeper characters". I loved that we got to allow the textures of the characters and surroundings to play out within scenes- it was something discussed up front".
The Cane Field Killings will launch on Channel 4 on 10th April 2022 at 10pm