The Great Stink of 1858
DSP for Channel 5
Editor: Simon Warner
Exec Producer: Ninder Billing Khandelwal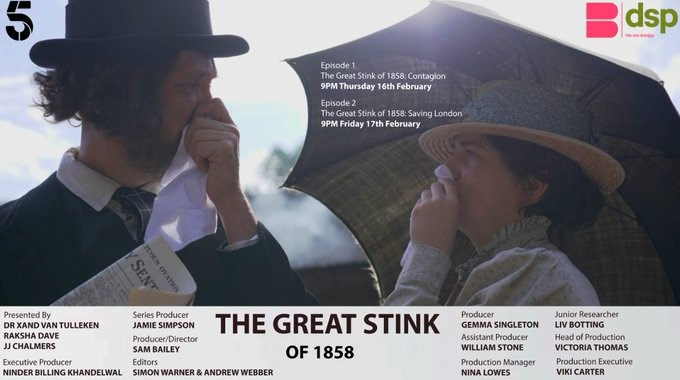 New two part series presented by Xand van Tulleken.
Tonight's episode The Great Stink of 1858: Saving London edited by Simon Warner continues the story of the 19th-century smell which dominated London. The Thames river became putrid after thousands of litres of raw sewage were discharged into it every day in the 19th century and after a summer heatwave in 1858 the stink became so bad that it spread disease and panic over London.
Presenter Xand van Tulleken reveals how Queen Victoria suffered from the stench during a trip to see Isambard Kingdom Brunel's gigantic ship, the Great Eastern. Archaeologist and TV presenter, Raksha Dave recreates the Great Stink with the help of a special-effects expert.
Simon explained the set up of the edit with this project. "With The Great Stink, I came on board to edit Episode 2, working with PD Sam Bailey and then Series Producer Jamie Simpson. It was a complete work from home edit, with media sent to me on drives rather than 'remoting in'. This meant it was much quicker and smoother to edit with. Once I started working with Jamie, he liked to feel he was 'in the room' so we set up a FaceTime call at the start of the day with the phone pointing at the screen so he could see what I was doing, and we left the call open so we could comment on things as we needed to. Although I have worked from home almost entirely over the past three years, it was my first experience of working exactly like that with someone in the room with me. Despite my initial reservations, it was a rewarding and collaborative experience, and reminded me of the positive aspects of working in an edit suite with someone who understands editing workflow".
The Great Stink of 1858 Part Two: Saving London is on Friday 17th Feb 9pm Channel 5
Both episodes will be available on My5.