The South Bank Show: Steve Pemberton and Reece Shearsmith
Editor: Andreas Torner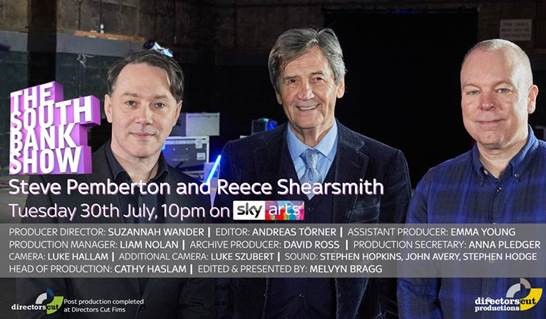 In this South Bank Show, Melvyn Bragg meets Steve Pemberton and Reece Shearsmith – two of the country's most original and versatile television screenwriters and actors.
They first made a name for themselves in the mid-'90s as masters of comic horror with the groundbreaking BBC Two series, The League of Gentlemen, alongside Mark Gatiss and Jeremy Dyson. The show became an instant cult hit, and picked up multiple awards including a BAFTA for Best TV Comedy in 2000. Steve Pemberton and Reece Shearsmith talk to Melvyn Bragg about their early influences and inspirations, which stem from a mutual love of both horror films, and British comedy. They discuss the genesis of The League of Gentlemen, and the stories behind some of its most infamous characters, including the murderous Tubbs, and the vicious Pauline, with contributions from fellow Gentlemen Mark Gatiss and Jeremy Dyson.
The South Bank Show edited by Andreas Torner includes exclusive access to Steve and Reece's writing process, as we see them working on scripts for the new series of Inside No. 9, and follows them on the set as they film one of the new episodes of their fifth series.
This film is a unique insight into the motivations and ideas behind some of the most ambitious, twisted and funny storytelling on television. Inside No. 9's blend of comedy, horror and pathos combined with devilish plot twists, stellar casts and ingenious innovations in form has allowed Steve Pemberton and Reece Shearsmith to break new ground with their distinctive brand of dark humour and storytelling.
Over the twenty years they have been working together, Steve and Reece have proved themselves to be two of the most talented writers of their generation.
Tuesday 30th July, 10:00pm on Sky Arts and NOW TV.