Britain's Youngest Football Boss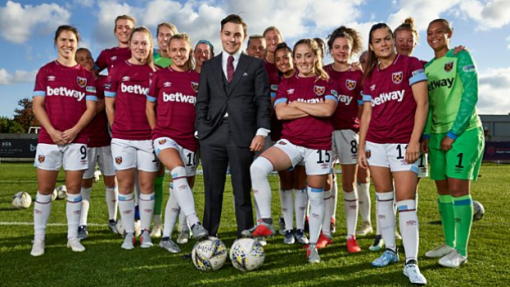 Britain's Youngest Football Boss (w/t) is a Curious Films production for BBC Three. Charlie Russell and Dov Freedman are the Executive Producers
The first two episodes in a brand new series following top flight football club West Ham United women's team and their 19 year-old Managing Director Jack Sullivan.
Filming on and off the pitch across the season, the series will follow the progress of a squad of female players as they debut in the professional Women's Super League. Having leapfrogged two divisions from the part-time third tier into the newly-revamped league, West Ham United women's team will now, for the first time, compete at the highest level of the sport, against some of the toughest teams in the world.
Jack's first full-time job since leaving school at 16 will be overseeing a squad of 18 outspoken, powerful women, and trying to raise the profile of a growing sport, one often dismissed and derided by male fans. With exclusive access to the club, players and backroom staff, as well as to Jack and his larger-than-life family, this is a revealing and inspiring behind-the-scenes story of what it takes to be a professional female footballer in today's game, and whether a loveable but inexperienced teenager can change the face of women's football.Mark Pickles and Jamie Williams are working on the series.
See here for more information: