Catching a Monster
Double Act for Discovery +
Editors:
Charlie Webb: Episode 1
Jayesh Lathia: Episode 3
Monday 6th March at 9pm on Discovery ID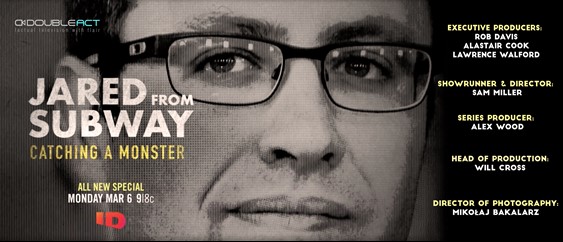 Discovery are calling this three part archive-heavy mini crime series "time for the victims to tell their stories" of the shocking, previously untold investigation that exposed the monster lurking behind the face of the Subway franchise's "Jared from Subway" aka Jared Fogle.
Charlie Webb and Jayesh Lathia edited an episode each of this new original series. Despite their experience cutting true crime documentaries, they couldn't help but be affected as they cut together testimonies from the victims of this friendly-faced pop culture persona who took advantage of his influence and sudden celebrity to manipulate the public opinion and his victims.
In 2015, the American public were shocked when authorities brought multiple charges of child endangerment against "Jared from Subway" and his business partner, Russell Taylor. Fogle was brought to justice largely down to the evidence from a female journalist Rochelle Herman who recorded their phone conversations before handing over to the FBI, eventually leading to Fogle pleading guilty to child pornography charges and traveling to engage in illicit sexual conduct with a minor. The documentary also includes tough, emotional interviews with Taylor's stepdaughters, Hannah and Christian, who were victimised by Fogle and their stepfather.
Charlie Webb said that It was a "challenging edit at times due to the sensitive content and the fact there was so much to try and fit into just 3 episodes. But this series goes much deeper into the story then before with great archive, access from key witnesses and the victims speaking for the first time".
Jayesh Lathia explains that "I edited Episode 3, where the main challenges were weaving the story of how Jared's criminal acts were exposed together with testimonies from his victims. At its heart, this episode dealt with how public trust was misused and the devastating fallout this can have".
Jared from Subway: Catching a Monster premieres Monday 6th March at 9pm on ID and will be available to stream the same day on discovery+.