Celebrity Race Across the World
Editor: Simon Holmes Series 1. Episode 2.
Studio Lambert for BBC One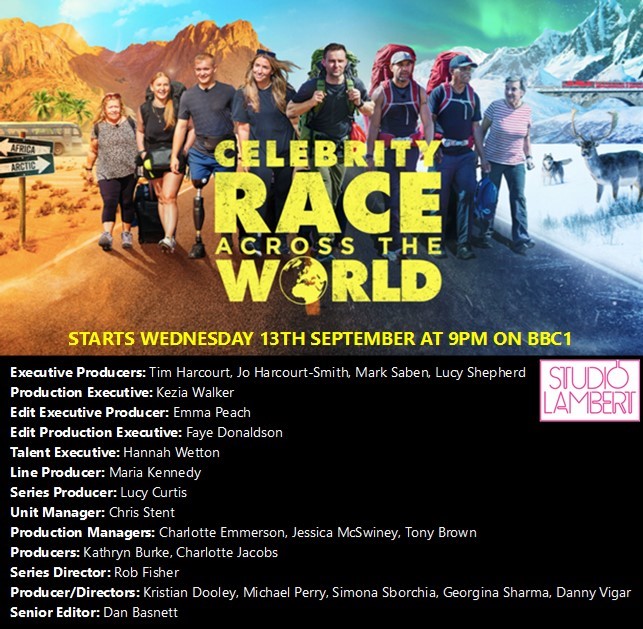 In this six-part celebrity version of the much-loved series, four celebrities and their racing partners will race to a finish line that's thousands of miles away without the use of air travel or any trappings of modern-day life. Stripped of all mod-cons and all luxuries they will have to rely on their skills, ingenuity, and hard work in order to succeed. With just the cash equivalent of completing the route to their final destination by air, they will have to earn extra money along the way as well as call upon the kindness of strangers to help them progress.
This series sees broadcaster Alex Beresford and his dad, singer Mel Blatt and her mum, McFly drummer Harry Judd and his mum and British Racing Driver Billy Monger and his sister embark on their travels. Starting in Marrakech, Morocco, and ending in Tromsø, Norway, known as the Arctic capital, the epic journey will span 24 countries and over 10,000 km. This incredible journey will give a unique insight into the celebrities and their relationships with their travelling companions.
Simon Holmes who edited Episode 2 said "I've loved Race from series one, so it's been a privilege to work on both main and the new celebrity strand this past year. Celebrity was a slightly different prospect from the main show, playing more for laughs yet still trying to maintain the human story elements that make the show so engaging. Its a test juggling race and contributor narratives, but with excellent exec guidance ever so satisfying when it comes together".
Due to the devastating news in Morocco the launch of the series has now been postponed. The TX date is To be Confirmed.