Lego Masters: Tuesday's Child
Channel 4: Thursdays 8pm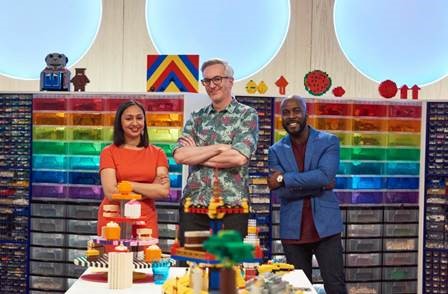 Eight competing pairs of all ages will have their design, originality and construction skills put to the test in a battle to be crowned LEGO MASTERS.
The series is hosted by DJ and TV presenter Melvin Odoom. Each programme tests a wide array of disciplines from the playful to the technical to the unexpected and judging is led by Matthew Ashton, Vice President of Design for the LEGO Group. Joining Matthew in each round will be an array of expert judges from the fields of engineering, art and design and guest celebrity LEGO fans including Richard Osman, Dara O'Briain  and Bill Bailey.
The wonderful Aidan Sansom edited the final Episode in which the three remaining teams take part in the ultimate Pure Imagination Challenge. They must each listen to a six-year old child's story and then have three hours to bring their tales to life. The best two teams then go head-to-head in the Final Master Build where they have two weeks to realise a master creation measuring 2 x 2 metres and using up to 500,000 bricks each. The build will then be revealed to the general public at The Design Museum in Kensington, London and is judged by comedian and LEGO enthusiast Dara O'Briain.
Aidan said "I loved doing this show. It's a great team of people I hope to work with again, and it's been a welcome challenge crafting this thing into genuinely funny entertainment. Over the moon it's rating so well"
The Final Episode will be shown on Thursday 14th September 8pm.
Other Episodes can be wathched here.