Rebuilding Notre-Dame: The Next Chapter
Windfall Films
BBC Two 8pm BBC Thursday 28th April
Editor: Hass Azzoug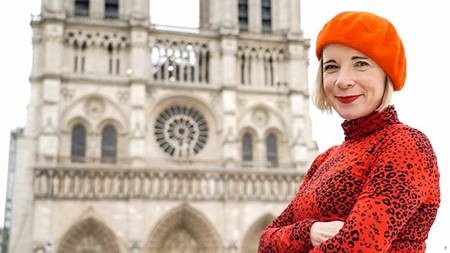 Three years after the devastating fire, Lucy Worsley has exclusive access to the Cathedral of Notre-Dame de Paris at a key turning point of the restoration. Work to rebuild and restore the monument is being ramped up in a bid to meet the ambitious deadline to reopen it to the public in 2024.
Visiting Notre-Dame aged 16 inspired Lucy to work with historical buildings; this is a once-in-a-career opportunity to witness the rebirth of an icon close to her heart. Scaffolding now fills the interior of the cathedral, giving Lucy and the team unprecedented close-up access to every inch of the structure. Lucy meets scientists, historians and craftspeople working to return the 850-year-old Gothic masterpiece to its former glory.
Hass who edited this new documentary, as well as Windfall Films' first look at the rebuild in"Rebuilding Notre Dame: Inside the Great Cathedral Rescue" commented " Yet again another fantastic Architectural project. Good to see and discover the medieval technologies used in the initial building of the cathedral. Great team to work with and Windfall are a great crew to work for".
Watch Rebuilding Notre-Dame: The Next Chapter 8pm BBC Thursday 28th April.