Shark Gangs
Double Act Productions for National Geographic and Disney+
Airing 7th July at 10pm and streaming 9th July
Editor: Charlie Webb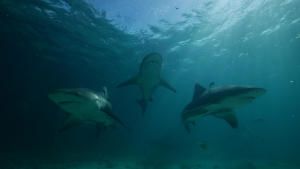 Produced by Double Act Productions for National Geographic's Sharkfest segment, Shark Gangs is a new ob doc looking at the behaviour of sharks. For years sharks have been viewed as solitary predators, but scientists have recently discovered a surprising new behaviour. In this special, they reveal how this apex predator likes to hang out in gangs. What is behind this change? Do sharks enjoy a social life or are they working together to become even more effective hunters?
Editor Charlie Webb worked on the series and reflects on his time editing the show:
'Really enjoyed working on the show with Alex and Rob at Double Act. Some of the photography within the film is breath-taking. The score is also amazing and really adds drama to the film. It was done by Paul Saunderson (Three identical strangers, Trying and Life). The channel loved it and I look forward to people being able to see it.'
Find out more at 10pm on National Geographic on 7th July or start streaming on Disney+ on Friday 9th July.